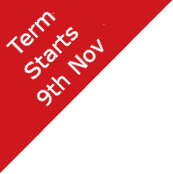 Instructors
Steve West 6th Dan
Steve West is a senior Wado Karate Union (WKU) instructor and former national kata champion. He has practised Wado Ryu karate since 1976 and has taught at the highest level for the past 30 years. He trained for many years with some of the highest-ranking Japanese Senseis, including Tatsuo Suzuki, Masafumi Shiomitsu, Kuniaki Sakagami Sensei & on seminars, Jiro Ōtsuka Sensei (son of the grand master). His Sensei for the last 18 years has been exclusively Sensei Tony Heap 8th Dan. He has represented England in both kumite and kata. Sensei Steve teaches adult and junior classes regularly in WKU dojos in Chiswick and Ealing. He is a regular instructor at WKU national courses. He also oversees the children's classes at schools around and West London.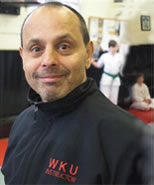 Daniel Miracapillo 2nd Dan
Daniel initially practised traditional Shotokan Karate, achieving the grade of Black Belt 1st Dan; he engaged in kata and kumite competitions during his Shotokan training. Afterwards, he paused his karate training and dedicated himself to yoga, both as practitioner and eventually as a teacher. He resumed his karate journey with the WKU Wadokai Karate Club under the direction of Sensei Tony Heap 8th Dan and Sensei Steve West 6th Dan, achieving the grade of Black Belt 2nd Dan. He enjoys training regularly in the dojo and assisting Sensei West with the junior classes.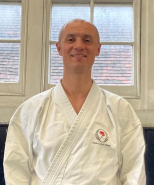 Gavin Williams 1st Dan
Gavin took up Shotokan Karate in university and continued training after receiving his Black Belt 1st Dan from Sensei Masao Kawasoe, during this time he competed in various intervarsity and open competitions for Kata and Kumite. Eventually travel and work pressures meant he was no longer able to train and paused his Karate, focussing instead on running and cycling. Gavin came back to karate and joined the WKU and was privileged to train under Sensei Tony Heap 8th Dan and Sensei Steve West 6th Dan, earning his Black Belt 1st Dan and continues to train. Gavin's children also now train regularly, and he assists in training in the junior classes.